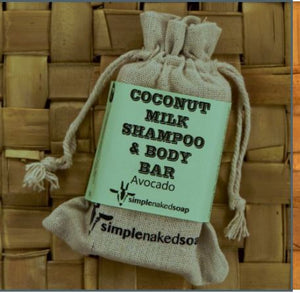 Simple Naked Vegan Shampoo & Body Bar - Coconut Milk & Avocado
Regular price $18.00 Sale
or
A long lasting, hand-made, vegan shampoo & body bar made from all natural products, completely plastic packaging free!
Simple Naked Soap Shampoo Bars help to condition hair, so no need for a conditioner on most hair types. With the added goodness of coconut oil & avocado, this vegan formulation is full of nourishment!
Hand made on a farm in beautiful Otago, these delicious Shampoo Bars use only natural ingredients, meaning they are free from palm oil, chemical additives and artificial fragrances! This Shampoo Bar can be used all over your body too, not just on your hair, so can save even more containers in the bathroom.
The Shampoo Bars come in plastic free packaging and because they last so long, we reckon each bar will save the world from at least 3 standard plastic shampoo bottles! To prolong the life of the bar, simply cut in half and store the unused half in the bag until needed.
Palm Oil Free
Chemical Free
Fragrance Free
Plastic Free Packaging
Vegan!
Size: 100g
Tracy and Malcolm make their Shampoo Bars in small batches from scratch using the traditional cold process soap making method. This keeps all the great properties of the Goats milk and oils together making a gentle, moisturising shampoo bar suitable for the entire family.
The first Simple Naked Soap first shampoo and body bar with no animal ingredients and with the benefits of moisturising and nourishing Avocado suitable for hair and body!
Ingredients:
Coconut Milk, Water, Organic Coconut Oil (OFC cert.), Olive Oil, Rice Bran Oil, Castor Oil, Shea butter, Avocado Fruit.