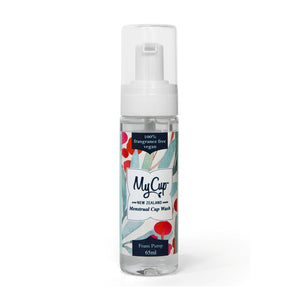 MyCup™ Menstrual Cup Wash - Low Cost Shipping Available!
Regular price $9.00 Sale
or
MyCup™ Menstrual Cup Wash is a 65ml foaming pump that is large enough to give you over 160 foam dispenses and small enough to keep in your bag!
Made with only distilled water and 100% saponified coconut oil, it is non-toxic and is the perfect product for cleaning your menstrual cup. It is vegan, fragrance-free, colour-free and cruelty-free.
We think you will love this little bottle of menstrual cup wash!
MyCup™ Menstrual Cup Wash is proudly Made in New Zealand. Employing New Zealand people and handmade using natural ingredients.
View our directions for cleaning Silicone Menstrual Cups here.