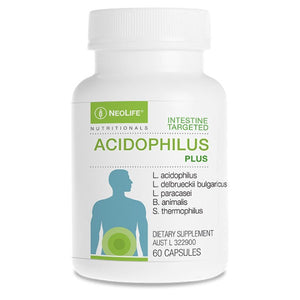 Neolife Acidophilus Plus
Regular price $136.50 Sale
or
As many beneficial bacteria as 10 servings of yoghurt or five servings of acidophilus milk!
Intestine-targeted probiotic capsule with 5 billion live micro-organisms for gut health.
Each capsule is filled with five billion live organisms and protected for maximum delivery to the intestines.
Intestine-targeted probiotics
Five billion "live" microorganisms per capsule
Proprietary blend of five types of clinically proven probiotics
Gel-Gard Enteric Protection System Guarantees Delivery
Regulates intestinal activity
Promotes colon health and supports immunity with a healthy balance of intestinal flora
Contains beneficial bacteria isolated from cultured dairy foods to support a healthful balance of microorganisms in the gastrointestinal tract. Exclusive Gel-Gard protection system assures that the maximum number of live bacteria survive the stomach acid and reach the site of action, the intestines.
Delivers five types of beneficial, lactic acid-producing bacteria: • Lactobacillus acidophilus • Lactobacillus delbrueckii ssp bulgaricus • Lactobacillus paracasei • Bifidobacterium animalis ssp lactis • Streptococcus thermophilus
Directions for Use:
Adults: 1 capsule daily will provide your daily needs of beneficial bacteria.