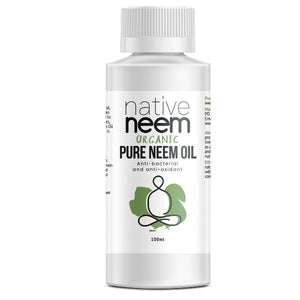 Native Neem Organic Neem Oil
Regular price $12.00 Sale
or
Organic
Looking for a natural nit or lice treatment - with no nasty chemicals - that works?
Neem oil has been shown to rid the body of head lice in three very important and distinct ways.
First, Neem contains hormone mimics that interfere with the life cycle of parasites. Secondly, Neem inhibits the parasites ability to feed, giving rise to the term anti-feedant. Finally, Neem prevents louse eggs from hatching.
Native Neem Organic Pure Neem Oil : is 100% pure, cold pressed and medical grade. It helps to treat many skin ailments including cuts, burns, bites, acne, dandruff and athletes' foot. Neem Oil helps soothe eczema, psoriasis, and rosacea and it is effective against head lice and scabies. In addition, Neem contains natural insect repellent and natural anti-histamines.
Directions for use:
Safe for use on pets and children
Wash hair and dry the hair as usual.

Apply Native Neem Organic Neem Oil to the hair and scalp. Massage well to ensure even and complete coverage.

Cover with a shower cap for 1 hour.

Comb hair with fine nit comb before washing your hair. Wash hair with Native Neem Organic Neem Hair & Body Wash, thoroughly cleaning the whole scalp.
Repeat the complete program: apply oil, comb, wash procedure, for three days.