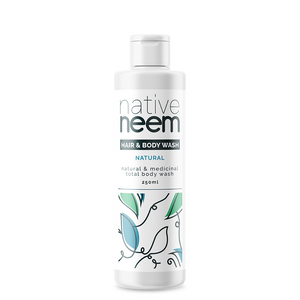 Native Neem Organic Hair & Body Wash
Regular price $18.00 Sale
or
#certified organic
Native Neem Hair and Body Wash is an organic, soap free, gentle cleanser. It 
is natural and effective to use in the battle against head lice. 
Native Neem Organic Neem Hair and Body Wash is specially formulated so that a little goes a long way. It allows the goodness of Neem to better penetrate your skin. It is all natural and completely non toxic, making it the perfect choice for everyone in your family.
Suitable for all ages.
Size: 250ml
About Neem:
Known for its multiple healing properties, Neem has been considered the pharmacy tree of villages in India. It has been used for centuries as a natural substance remedy for humans, animals and plants. The Neem sourced for this product is native to India.
Uses:
Native Neem Hair & Body Wash is made from the organic, natural and plant based ingredients. Organic Neem Hair and Body Wash is specially designed for all skin types. Being free from chemicals and dyes makes this a great skin care product.
Regular use of Native Neem Hair & Body Wash will promote clear and softly nourished skin. Used as shampoo, it works well against dandruff and in controlling hair loss and is also effective against nits and lice etc. This all in one shampoo is suitable for hair, body, hand and face wash.
For best results against head lice, apply Native Neem 100% pure Neem oil and wash with Native Neem Hair and Body Wash.
Contains no Cocamide DEA/MEA, SLS, SLES
Soap free
Made with Organic and Natural ingredients
100% vegan: Not tested on animals and contains no animal products
Contains no palm oil, synthetic dyes or perfumes
Safe for the whole family and our planet
Suitable for everyday use
Made with organic certified Neem Oil and Neem Leaf Extract.

INGREDIENTS:
Aqua (Water), Sodium Lauryl Glucose Carboxylate, Decyl Glucoside, Coconut Oil, Sodium Stearoyl Glutamate, Neem Leaf Extract, Glycerine, Glyceryl Oleate, Coco Glucoside, Neem Oil, Xanthan Gum, Mandarin Essential Oil, Rosemary Essential Oil, Benzyl Alcohol, Dehydroacetic Acid, Citric Acid.

NO SYNTHETIC COLOURS, FRAGRANCE OR PRESERVATIVES ARE USED
CONTAINS NO SODIUM LAURETH OR LAURYL SULFATE.
Made in New Zealand.