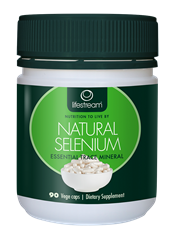 Lifestream Natural Selenium
Regular price $15.50 $15.75 Sale
or
Selenium, like many trace elements and minerals, is not evenly distributed in the world's soil. Many parts of NZ and Australian soils do not contain sufficient selenium to support optimum health from the food we eat. Selenium is necessary for antioxidant protection, optimum immune function, and for thyroid function. Supplementation can therefore play a vital role in balancing hormones.
An essential component in antioxidant enzymes
Helps recovery time after exercise 
Essential for healthy immune and thyroid function
Helps to counteract the effects of a number of heavy metals, including cadmium, mercury and arsenic 
Helps protect blood vessels from oxidative damage
Essential for a healthy heart
Lifestream Natural Selenium contains selenium in a 100% organically bound, natural food form of high selenium yeast. The high selenium yeast used in Lifestream Natural Selenium is not a pathogenic or active yeast and does not cause Candida or other yeast infections. After the incorporation of the selenium into the formula, the yeast is pasteurised and dried during processing. So there is NO active yeast present in the end product. 
Lifestream Natural Selenium is:
A unique, natural food source of highly-bioavailable selenium
Contains 100% organically bound selenium-rich proteins such as selenomethionine and selenocysteine
A stable 'package' for selenium proteins
Easily absorbed by the body
100% natural with no chemicals used at any stage of its production
A formula that contains selenium and is not complicated by other conflicting or negating minerals.
Nutritional Information:
Ingredients:
Each Vegetarian Capsule contains:
High selenium yeast 83mg.  Equivalent selenium 100mcg.
Other:
This product is non-GMO and contains no gluten, sugar, lactose, yeast, artificial colouring, flavouring or preservatives.
The capsules used in Lifestream Selenium are 100% vegetarian capsules made from pure vegetable fibre, making them suitable for vegetarians and vegans. 
Directions for Use:
Adult dose: Take one capsule daily
This product contains selenium which is toxic in high doses. A daily dose of 150mcg, for adults, of selenium from dietary supplements should not be exceeded.
Always read the label and use only as directed. If symptoms persist see your healthcare professional.