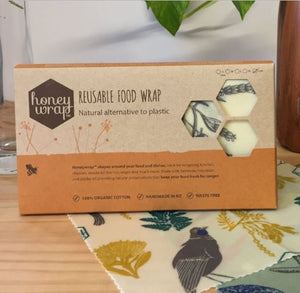 Honeywrap Quality Reusable Food Wrap Gift Set (3 Wraps)
Regular price $27.50 Sale
or
Give something to help the Earth!
The 3 set of small, medium & large comes in a beautiful sleeve made from recycled card.
Honeywrap are a top quality reusable food wrap made right here in NZ - perfect for wrapping and covering food, and they work really well! A clever, innovative, sustainable and healthy alternative to cling wrap and plastic containers. Excellent for wrapping sandwiches and lunch snacks, cheeses, leftovers, salads bowls, half avocados/ lemons etc, and much more.
Honeywraps are made with 100% organic cotton blended with beeswax, tree resin and jojoba oil.  This perfect combination makes the cloth tacky so it can then be shaped over your food and dishes.
Made from 100% natural materials - organic cotton, beeswax, tree resin & jojoba

Can be washed and used again and again, so reduce waste

Keep food beautifully fresh

Smell beautiful, like honey

Each honeywrap comes in a biodedgradable sleeve containing wildflower seeds to plant and feed the bees!

No nasty plastics absorbed in your food

Keep your food fresher

Beautiful designs.
Start your collection of Honeywrap reusable food wraps today to move to sustainable food wrapping!
Gift Set Includes:
1x Small -

17 x 20 cm. Perfect for smaller snacks, covering avocados and fruit pieces, etc.

1x Medium -

31 cm x 27 cm. Great popular size, perfect for kids sandwiches and covering small plates. 

1x Large - 

35 x 33 cm. Perfect for larger sandwiches, covering larger salad bowls etc.
Directions for Use:
Use the warmth of your hands to shape your honeywrap over food and dishes. The Honeywrap sticks to itself when you press firmly over the bowl/ plate.  When stored in the fridge the beeswax will harden further, retaining the shape and sealing in the goodness.
Not suitable for use in ovens, microwaves, dishwashers, or with anything hot. Not suitable for use on raw meat. 
See the how to use video here.
How to care for your honeywraps:
When your Honeywrap needs a clean always use cold water and mild soap (eco-friendly is best). Either immerse your Honeywrap in cold water and dish soap or sponge off with a dishcloth.  Air dry on a dish rack, clothes line, or use a tea-towel to pat dry off. Can be folded and stored in a drawer or cupboard.
Some oils and sauces may stain your Honeywrap, but your food stays fresh.  
Your Honeywrap can be used again and again following these simple steps.
Care video:
Meet the Honeywrap Team
#reusable food wrap nz #best reusable food wrap nz #beeswax wrap nz #honeywrap