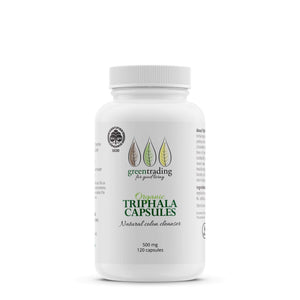 Green Trading Organic Triphala Capsules
Regular price $27.00 Sale
or
Green Trading's Organic Triphala Capsules enhance metabolic function and support overall colon function.
Triphala is a powerful rejuvenating & detoxifying formulation that cleanses the colon and supports the entire GI track, improving digestion, assimilation of nutrients, and elimination. Triphala helps remove fat deposits & toxins from the intestines, is rich in natural Vitamin C, abundant in antioxidants, & helps balance acid/alkaline levels.
Triphala means "three fruits". It is an Ayurvedic herbal rasayana formula consisting of equal parts of three fruits (without seeds). These are Amalaki (Emblica officials), Bibhikaki (Terminalia belerica) and Haritaki ( Terminalia chebula). These are three of Ayurvedas most widely used super fruits. Triphala is traditionally used as a bowel tonic and it helps to clean the colon in several ways. Haritaki provides a mild laxative function, while Amalaki supports healthy pH levels. Bibhitaki enhances metabolic function, and the large quantities of tannins in Triphala increase tone in tissue and support overall colon function. Gluten Free, Vegan and 100% Biogro Certified Organic.


Triphala Health & Nutritional Benefits:

Helps improve digestive functions

Helps in breaking down of fats, carbohydrates and proteins

Gently relieves constipation and maintains regularity

Helps regulates blood pressure

Nourishes and rejuvenates the skin tissues
Size: 500mg/120 capsules
Ingredients: 
100% Organic Triphala Powder with no fillers, binders or common allergens.
Gluten Free, Organic and Vegan.
Product of India.
Dosage:
Up to four green trading Triphala capsules with warm water right before bed for best results. Can be taken daily.

NOTE: It is not uncommon to experience looser motions than usual. This can be by-product of cleansing. If your cleansing experience becomes too intense, you can stop taking or reduce the amount until the symptoms subside.