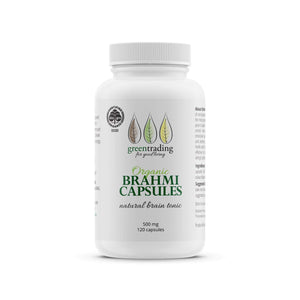 Green Trading Organic Brahmi Capsules
Regular price $30.00 Sale
or
#certified organic
Biogro certified organic,

 Green Trading's organic, Brahmi Capsules are one of the most powerful brain tonics in Ayurveda. 

Named after one of the highest states of consciousness (Brahman or God consciousness), Brahmi is traditionally used to heighten intelligence and relax the central nervous system. Brahmi supports healthy skin, liver health and other circulatory functions. It has also been found to be effective to treat backache, hoarseness, anxiety , ADHD and some allergic conditions.

Gluten Free, Organic and Vegan.
Brahmi is traditionally used to:
Increase certain brain chemicals leading to improved creativity, imagination, memory and concentration
Improve functioning of the central nervous system and complements modern treatment of Alzheimer's disease
For treatment of many other aliments like vertigo, anxiety, stress and blood pressure
Restoring proper liver function
Reducing leg edema due to venous insufficiency
Calming restlessness in children
Improving learning abilities for students of all ages
Size: 120 Capsules
Ingredients: 
100% Organic Brahmi powder filled in vegetarian capsules. 
No fillers, binders or common allergens. No artificial colours or preservatives added. No heavy metals.
Gluten Free, Organic and Vegan.
Product of India.