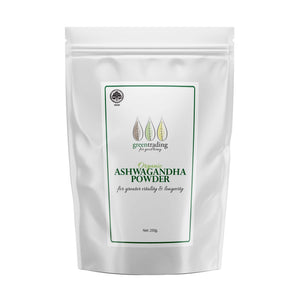 Green Trading Organic Ashwagandha Powder
Regular price $22.00 Sale
or
Use

 Ashwagandha Powder for greater vitality and longevity. Long considered a powerful adaptogenic herb, it alleviates symptoms like stress and fatigue. It supports an energetic and rejuvenating a sense of well-being.

Medical researchers have been studying Ashwagandha for years and have completed over 200 studies on the healing benefits of this herb. In Sanskrit Ashwagandha means "the smell of a horse" indicating that the herb imparts vigor and strength of a stallion. It is one of the most powerful herbs in Ayurveda (the Indian traditional system of medicine), and is sometimes referred as "Indian Ginseng" due to its rejuvenating and restorative properties.

Green Trading Ashwagandha is Gluten Free, Vegan and 100% Biogro Certified Organic.

Adaptogens are very safe to use, and they work by adapting to whatever your body needs, whether that be increased energy, reduced stress, or improved skin. 

Ashwagandha comes from The Winter Cherry Tree, which grows in the Western India and Himalayan region. The leaves and roots are crushed to make the tonic.

Ashwagandha may help to balance and restore:
The production of testosterone, dehydroepiandrosterone (DHEA) and cortisol
Helps to control Adrenal fatigue.
Physical and mental ability
Energy levels by combating fatigue and stress effects
Anxiety and mood swings, and reduce symptoms of depression
Cholesterol levels
Thyroid health by balancing hormones
As an aphrodisiac, it promotes sexual health, potency and testosterone levels in men.
Size: 250g
Ingredients: 
100% Organic Ashwagandha Extract Powder
Gluten free, Organic and Vegan
Product of India.
Suggested Use:
As a dietary supplement, take one or two tsp after a meal, or as suggested by your practitioner. Can also be added to hot drinks, raw and cooked treats. It's best to take a little bit over a consistent period of time. Ashwaganda tastes a tiny bit bitter, but that can actually be great for the digestive system as it activates bile in the