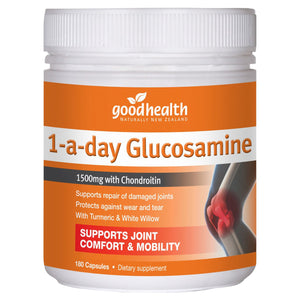 Good Health Glucosamine 1500mg with Condroitin
Regular price $35.00 Sale
or
Good Health Glucosamine 1-a-day is a high strength dose of glucosamine for joint repair, in a convenient one-capsule-a-day capsule.
Good Health Glucosamine 1-a-day with Condroitin contains 1500mg of clinically researched Glucosamine with Chondroitin, along with
key nutrients to support joint & muscle comfort.
Glucosamine with Chondroitin are two important building blocks for healthy cartilage maintenance.
This product also contains other key supportive herbal ingredients to assist joint and muscle comfort and repair - Turmeric & White Willow.
PLUS the formulation contains nutrients for bone & joint support and repair - Vitamin D3, Boron and Copper and Selenium.
Supports joint comfort and repair
Protects against joint wear and tear
Where extra herbal support is required.
Ingredients:
Per Capsule:
Glucosamine Sulphate Potassium Chloride Complex 1500mg*
Chondroitin Sulphate 155mg (Bovine)
Herbal extracts equivalent to dry:
Salix alba (White Willow) Bark 200mg
Curcuma longa (Turmeric) Rhizome 100mg 
Vitamins & Minerals:
Cholecalciferol 100IU (Equiv. Vitamin D3 2.5mcg)
Selenomethionine 62.5mcg (Equiv. Selenium 25mcg)
Sodium Borate 8.8mg (Equiv. Boron 1mg)
Copper Sulphate Pentahyrdate 652mcg (Equiv. Copper 166mcg)
Manganese Amino Acid Chelate 5mg (Equiv. Manganese 1mg)
Contains NO artificial flavours, sweeteners, preservatives or colours, added gluten, egg, dairy, soy or yeast.  
Directions for Use:
Adults: Take 1 capsule daily with food or as professionally advised.
Contra-indications: 
Not recommended during pregnancy or breastfeeding. Glucosamine is derived from crustaceans. People allergic to seafood should avoid use.
White willow should not be taken by those with allergy or sensitivity to salicylates
Not to be taken while on anti-coagulant or blood thinning medication without medical advice