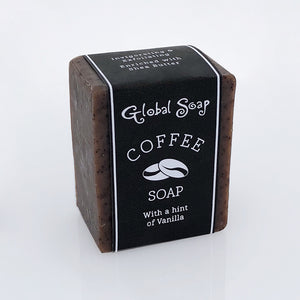 Global Soap Coffee Scrub Soap
Regular price $8.00 Sale
or
#eco-friendly#biodegradable#madeinnz#vegan
This divine body scrub from Global Soap is made with ground coffee beans, a hint of vanilla fragrant oil, and enriched with Shea Butter for additional emollient. And it smells spectacular!
Shea Butter is a rich butter that has a wealth of skincare benefits to help soothe and protect dry skin. It penetrates deep down to provide instant nourishment and improve elasticity.
Coffee has a high antioxidant capacity and the caffeine content can help improve circulation.
Together these ingredients provide a wonderful natural body scrub that will leave your skin looking radiant and smelling gorgeous!
Ingredients:
100% natural vegetable oils, coffee infused water, ground coffee beans, shea butter and vanilla fragrant oil.
Contains NO: Sodium Laureth Sulphate or Parabens.
Made in New Zealand.
Size:
 80g