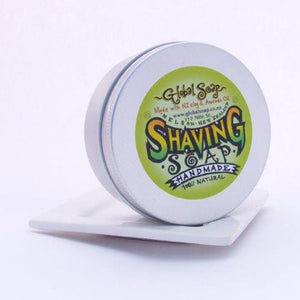 Global Soap Shaving Soap with Tin
Regular price $18.00 Sale
or
This natural handmade Shaving Soap comes conveniently packaged in a lightweight aluminium Tin - ideal for travel!
Global Soap's traditional shaving soap is hand made with beautiful oils to generate a rich lubricated lather. It protects and softens for a close and comfortable shave, leaving your skin smooth and moisturized.
Scented with fresh woody essential oils – the soap when combined with hot water and a brush, will whip up a luxurious creamy lather. We add clay and avocado oil that helps the razor glide across your skin for a close, clean shave.
Ingredients:
Pure essential oil of Lime and Cedarwood: for a fresh, woody scent.
Clay: has moisture absorbing properties and adds extra slip so the razor easily glides across the skin for a closer shave.
Avocado Oil: is easily absorbed into the skin and used to hydrate and re-generate skin.
Castor oil: creates a rich foamy lather. Soothing and lubricating, great properties for a natural shaving soap.
Contains NO: Sodium Laureth Sulphate or Parabens.
Made in New Zealand.
Size:
 130g