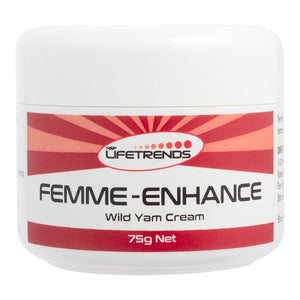 Femme-Enhance Natural Progesterone Creme
Regular price $36.00 Sale
or
Femme Enhance is specifically designed to provide support for hormonal balance in women.
Femme Enhance is a high-quality and natural herbal extract of Wild Yam contained in a non-ionic cream base, ensuring a natural non-allergenic product.
Femme-Enhance is guaranteed to be 100% free of synthetic progesterone which may disturb hormonal regulation or any other chemical additives and fillers.
Our low cost shipping rate is available on this product (non rural only)
A synergistic combination of 6 unique multiple strength complex potencies of Dioscorea Villosa (Wild Yam)

May help to normalise the menstrual cycle

Supportive for hormonal balance after menopause

May activate thyroid hormone action

Supports a healthy mood

May assist with re-balancing of normal women's hormonal levels, which in turn may normalise:

Blood clotting

Blood sugar levels

Zinc levels in the body

Copper levels in the body
Indications:

Applied in small amounts to the skin, may activate thyroid hormone action. May supports healthy moods. May normalise blood clotting, blood sugar levels, zinc levels and copper levels in the body. May help to normalise the menstrual cycle.
Ingredients:
Active Ingredient: Dioscorea Villosa ( Wild Yam) 6:1 potentiated micro-magnetically enhanced extract. Synthetic progesterone free.
Contains NO harmful ingredients.
Base Cream Ingredients:
100% natural and organic
Vegetable/plant derived base cream made from coconut, almond, avocado, macadamia oils, MSM, water, vegetable sourced glyceryl stearate. Vitamin E (mixed tocopherols).
Directions for Use:

Always read the label and use as directed. External use only.
Dosage:
Adults only: Apply (massage) to the body ½ metric teaspoon twice daily or as directed by your healthcare professional.