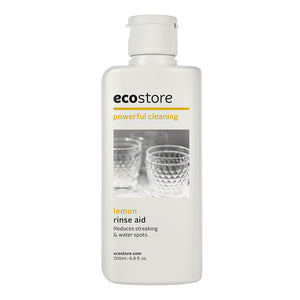 Ecostore Dishwasher Rinse Aid
Regular price $5.00 Sale
or
--This Ecostore product is available by pre-order - please allow 7-10 working days for delivery although it may be less.--
Ecostore Dishwasher Rinse Aid in Lemon helps dry your machine-washed dishes and glassware, leaving them sparkling clean without water spotting, streaking or residues.

Formulated from the latest generation plant-based ingredients with no synthetic dyes or perfumes.

Performance:  Ecostore rinse aid has been independently benchmarked against the market leader to ensure excellent results.

Renewable sugarcane plastic: Ecostore rinse aid 200ml bottle is made from renewable sugarcane plastic, which is 100% recyclable and helps to reduce your carbon footprint.
Safer for our environment: By using ecostore rinse aid you can help reduce toxic chemicals that go into your septic tank or local water treatment system.

Sustainable manufacturing: Ecostore rinse aid is Kosher (pareve) certified and made in NZ to the strictest environmental standards in our ISO14001, Enviromark Diamond and CarboNZero certified factory.