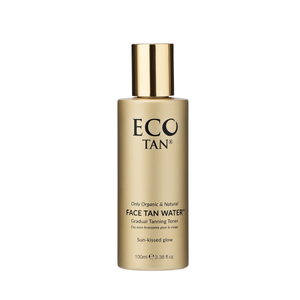 Eco Tan Face Tan Water (Gently Tanning Toner)
Regular price $42.50 Sale
or
Eco Tan Face Tan Water is all natural and gives a beautiful, natural tan in harmony with your natural complexion
It does this gently and naturally without clogging pores. You will LOVE Face Tan Water! It's also a lightweight yet very moisturising toner
Eco Tan / Eco Sonya Face Tan Water is a gradual liquid self tanning toner. An organic self tan in Eco Tan's range specifically created for face, neck and décolletage. Face Tan Water builds to a beautiful glow, creates a youthful radiance and even reduces the need to wear foundation! It contains nothing artificial and is free from synthetic ingredients. Instead, it is made with only  certified organic and natural ingredients sourced from Mother Nature. Face Tan Water is also vegan and cruelty free.
A fantastic unisex product - men can use as a refreshing aftershave! Suitable for all skin types and tones. It will simply enhance your own natural skin-tone.
A beautiful blend of aloe vera, rose geranium and citrus peel provides a soothing anti-acne formulation which will help you build a gradual, natural looking glow on your face and neck.

After only two applications you will notice a subtle bronze tone which will even out your complexion and brighten skin tone.

Size: 100 ml
Directions for use: 
For best results we recommend you apply Face Tan Water to fresh clean dry skin just like a toner. That's where it fits into your routine. Apply daily or else 2 -3 times per week for a radiant glow - find what suits you.
Use a few days in a row or twice daily for a few days to build up your desired colour and then play with what works for your own skin.
Exfoliate at least 24 hours before applying Face Tan Water, you only need to exfoliate once a week as our organic self-tans do need a certain amount of dead skin cells to adhere to and any more you're just removing fresh healthy skin.
Just use your fingers to apply as we find a cotton pad can soak up all the liquid.  Rinse fingers after applying.
It contains nothing synthetic or artificial so it won't stain your hands. No nasty dyes. Make sure you're applying enough product, at least a teaspoon per application to see a thin liquid layer on your skin.
Think of it as your toner, that's where it fits in to your routine, wait for it to dry a little before applying any moisturisers. Use instead of toner as using another toner straight over it will wipe it straight off.
Use a soap-free and sls free cleanser as these products are known to strips tans
Be wary of using Face Tan Water directly before oil based serums as oils may strip tans so use them at different times of the day.


Ingredients:
Rose Geranium*, Hyaluronic Acid**, Aloe Vera*, Orange Peel*, DHA (Sugar Derived)**, Glycerin (Vegetable Derived)*, Radish Root**, Caprylyl/Capryl Glucoside (Sugar Derived)**, Citric Acid (Citrus Derived)**, Glyceryl Caprylate (Vegetable Derived)**, Sodium Cocoyl Glutamate (Coconut & Sugar Derived)**, Dehydroxanthan Gum (Sugar Derived)**, Polyglyceryl Esters (Vegetable Derived)**, Sodium Surfactin (Natural Lipopeptide)**
Certified Organic* Natural**
All Eco Tan products are made with only Certified organic and natural ingredients with nothing artificial or synthetic with no nasty chemicals.