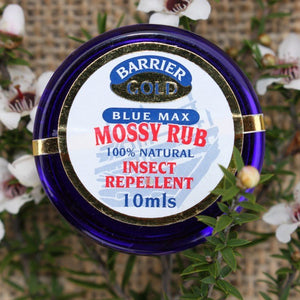 Barrier Gold Mossy Rub - Natural Insect Repellent Balm
Regular price $20.00 Sale
or
NZ native remedy
This 100% natural insect repellent helps to keep those annoying biting insects like mosquitoes and sandflies away!
Make your next camping trip a breeze with Mossy Rub Balm - smells lovely and contains only therapeutic, natural ingredients!
Available in both 45ml, and a 10ml, pocket-sized container that is very light and easy to stow away when you're on the move. Mossy Rub is more water repellent than the Mossy Mist spray version, as it contains beeswax. 
Handcrafted by Sven Stellin on Great Barrier Island - a remote island 88km away from Auckland that is mostly covered in mature native forest. Sven harvests the mānuka oil, kānuka oil and beeswax from his farm in Port Fitzroy, which is only accessible by boat and air.

Ingredients:
Mossy Rub:
Kānuka essential oil*, Mānuka essential oil*, Citronella essential oil, Olive oil, Neem oil, Vitamin E, Beeswax*   
* Ingredients from the Great Barrier Island farm - handmade, organic or wild harvested.
Caution: do not ingest. Keep away from eyes. If you're allergic to bee stings or bee products, avoid using this product as it contains bees wax (the 50ml bottle does not contain bee products).