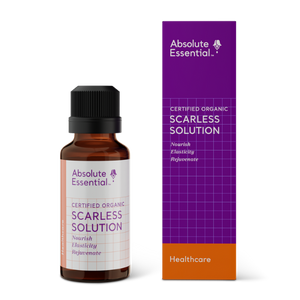 Absolute Essential Scarless Solution (Organic)
Regular price $35.50 Sale
or
Certified organic
Looking for a safe, natural remedy for scars and skin healing?

Absolute Essential Scarless Solution provides intense nutrition at cell level to assist natural healing, and nourish and repair tissues for optimum elasticity and tone.
Apply regularly to condition healing - and even healed - areas towards minimal visible scarring.
Suggestions for use:
Apply to affected area with gentle massage, once or twice a day.
Scars: Encourages optimum wound healing, helps to condition away visible scarring of the skin.
Healing: Healing, cleansing properties for wounds with deep tissue nourishment.
Burns: Encourages healthy skin repair and helps to minimize visible scarring. Use after skin is partially healed.
Skin Nourishing: Nutrient rich and hydrating to nourish and soothe skin.
Key Components:
Chamomile German CO2 (organic) Chamomilla matricaria
Traditional use: An effective, gentle oil with healing qualities for redness, itchiness, and inflammation.
Patchouli Supreme (organic)

 

Pogostemon patchoulii
Traditional use: Earthy and oriental, nutritional properties for skin tone and hydration.
Myrrh (wild)

 

Commiphora myrrha
Traditional use: Healing and balancing properties for mind and body.
Avocado Oil: virgin (organic)

 

Persea americana
Traditional use: Intense skin food to help soothe and soften skin, good for dry and itchy skin, easily absorbed.
Ingredients:
Avocado Oil (organic), Jojoba Oil golden (organic), Lavender Sweet (organic), Lavender Spike (organic), Eucalyptus Blue Gum (organic), Evening Primrose Oil (organic), Patchouli Supreme (organic), Everlasting (organic), Geranium (organic), Rose Hip Oil (organic), Argan Oil (organic), Wheatgerm Oil (organic), Chamomile German CO2 (organic), Myrrh (wild).
Safety Considerations: 
This oil blend is safe if applied as directed. Safe to use in Pregnancy and with children. Safe to use with other medication when necessary. Avoid contact with eyes.

Allergies: May contain gluten. This blend does not contain nut oils, however, the place of manufacture handles nut oils.

Please note: Therapeutic plant oils are used to support natural body processes for optimum health and wellbeing. The information here is NOT meant as a recommendation to cure any medical condition or disease. commendation to cure any medical condition or disease.