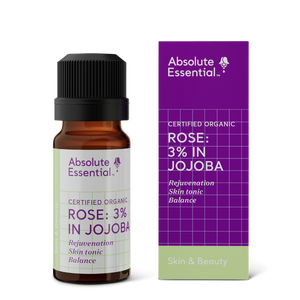 Absolute Essential Rose 3% in Jojoba (Organic)
Regular price $31.50 Sale
or
A skin-ready blend of exclusive Rose oil in Jojoba, delivering luxurious aromatic care on all levels.
Rose's tender floral scent is beautifully balancing and harmonic with a soothing effect on mind and spirit.
Rose has equally calming and restorative powers when blended for the skin.
With strong antimicrobial and cleansing action, it works to keep skin healthy and high-functioning
Stimulates gentle lymphatic cleansing which is especially useful for dark eye rings and around the neck for supporting healthy circulation
High in natural anti-oxidants to combat blemishes, ageing and wrinkles; and it helps to improve the skin's capacity for absorption.
Working in combination with Jojoba to deliver deep nutrition and Omega essentials for greater skin health.
Benefits:
Youthful Skin  - Rose is a great essential oil with therapeutic value for mature or sensitive skin. This exceptionally nourishing and hydrating blend will help to smooth wrinkles and leave the skin soft and revitalised.
Perfume - The slow-release scent of rose oil works beautifully in this rich body oil, around the neck and to pulse points for a lingering, alluring scent. Apply as often as desired.
Relaxation - Smooth and nourishing, warm and inspiring... this is a fully restorative body oil with qualities to promote calm and relaxation.
Grief & Loss - Warm and comforting, Rose oil can be used to help nurture vital energy in times of grief or loss. Apply a few drops to the heart area every other hour. Repeat as often as desired.
Components:
Jojoba Oil Golden (organic) Simmondsia chinensis - An excellent, nourishing carrier for skin blends. Rich in nutrients, easily absorbed.
Rose Maroc Absolute Rosa damascena - Youthful complexion, hormone balance, birthing & relaxation.
Traditional & Historical Information:
Rose is one of our best loved flowers with a rich fragrance that has perfumed human history for centuries. From the ancient gardens of Persia where it was believed to be first cultivated for Roman banquets, over time the rose has become symbolic of love, passion, innocence, sympathy, desire and luxury. The healing traditions around the rose are no less important. The 17th century English physician Culpepper believed that the red rose strengthened the heart, and its extracts had cooling and astringent benefits. Rose, with its many therapeutic qualities, including anti-viral and anti-bacterial, is often blended into creams, lotions and soaps for skin care. It has stimulating effects on the blood and is known as the heart oil, often used for grief and loss.
Ingredients:
Jojoba Oil golden (Simmondsia chinensis, fruit, virgin cold pressed, certified organic, Australia), Rose Absolute (Rosa damascena, flower, absolute out of organic cultivation, Turkey).
Directions for Use:
Can be applied directly to skin, including face. Can be combined with other essential oils in a carrier oil, or added directly to bath.