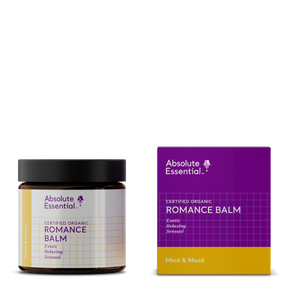 Absolute Essential Romance Stimulating Skin Balm (Organic)
Regular price $37.50 Sale
or
Organic blend
This luxurious skin balm has an exotic scent that relaxes the mind and awakens the senses. 
Ready to use, it's an aromatic and sensuous blend to enhance the pleasure of massage. Ready to use on skin.
Absolute Essential Romance Organic Skin Balm offers a way to discover new realms of passion through mutual sensual indulgence. Absolutely natural and pure for exquisite body care.
Sensual massage - stimulating to the senses, relaxing on the body, perfect therapeutic blending to enhance massage pleasure
Aphrodisiac properties - stimulting properties evoke primal responses
Playful Passion - support deep relaxation and sensual awareness to enhance the pleasure of intimate touch
Cultivate desire - rich, potent scents to awaken body and soul.
Main Components:
Ylang Ylang (organic) Cananga odorata formagenuina - traditional use: a smooth, provocative aroma that counters tension and awakens desire.
Sandalwood - Australian Santalum spicatum - traditional use: a smooth, provocative aroma that counters tension.
Black Pepper - To uplift and energise.
Ginger - To stimulate circulation
Vetiver - To encourage deep relaxation.
Ingredients:
Calendula Tea*, Avocado Oil*, Apricot Oil*, Cocoa Butter*, Calendula Oil*, Olive Emulsifier, Shea Butter*, Arnica Oil*, Rosemary Extract*, Geogard 221, Jojoba Oil*, Cedarwood Atlas*, Bergamot*, Xanthan Gum, Ylang Ylang*, Clary Sage*, Ginger*, Vetiver*, Aloe Vera*, Amigum, Clove Bud*, Pepper Black* (*Certified organic)
Other Notes & Safety Considerations
This oil blend is safe if applied as directed. Safe to use with other medication when necessary. Avoid contact with eyes. Avoid contact with eyes: flush with water. Keep out of reach of children.
Allergies: This cream does not contain any nut oils, however, the place of manufacture handles nut oils and gluten-containing oils.
Therapeutic plant oils are used to support natural body process for optimum health and wellbeing. The information here is NOT meant as recommendation for cure of any medical condition or disease.