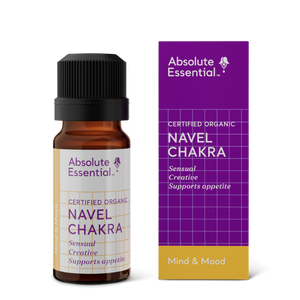 Absolute Essential Navel (Sacral) Chakra Essential Oils (Organic)
Regular price $32.50 Sale
or
A balancing essential oil blend to complement creative flow and enhance desire. Ready to use on skin.
Absolute Essential Navel Chakra essential oil blend assists with the Sacral Chakra - allowing you to creatively deal with what comes out of your experiences, and develop a response that's influenced by your intelligence and emotional patterns.

The navel chakra (lower abdomen) is the centre of free moving watery elements of the body, which influences our reproductive and creative energies. Navel Chakra medicinal oil blend supports creative flow and helps to balance emotional tides, working with the chakra centre to affect sensations, feelings, sexual development, fertility and appetite. Protecting and strengthening our ego energy for a balanced, functional self definition.

Benefits:
Emotional Balance
A key aspect to navel chakra energy is emotional flow. We can use Navel Chakra Oil to help balance emotions and encourage genuine responses that enhance our vitality and allow us to be fully present.
Pleasure
Sensuality and healthy appetite can be restored by working with the energy of the navel chakra. This blend may be especially useful for supporting people with eating disorders, addictions or inhibited sexuality. 
Directions for use:
Massage into the abdomen and lower back area, as a daily treatment for 10 days.
Size: 10ml
Key Components:
Jasmine Absolute Jasminum officinalis.
Traditional use: The restrictions of self doubt disappear under its sensual spell.
Ylang Ylang (organic) Cananga odorata formagenuina. .
Traditional use: Intense and exotic.
Sandalwood Australian Santalum spicatum
Traditional use: Can elevate physical sensations.
Rosewood (wild)

Aniba roseodora

Traditional use: Offers comfort when feelings of neglect arise.
Ingredients:
Jojoba Oil golden (organic), Cedarwood Atlas (organic), Sandalwood Australian, Petitgrain Bigarade (organic), Amyris (wild), Ylang Ylang (organic), Sage (organic), Rosewood (wild), Jasmine Absolute.
Safety considerations: Safe if applied as directed. Not for internal use: if swallowed, drink milk, consult a health specialist. Avoid contact with eyes: flush with water. Keep out of reach of children..
Please note: Therapeutic plant oils are used to support natural body process for optimum health and wellbeing. The information here is NOT meant as recommendation for cure of any medical condition or disease.