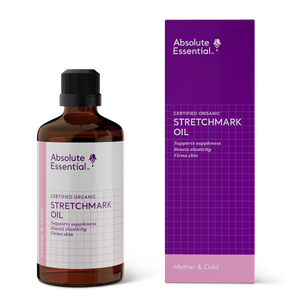 Absolute Essential Stretchmark Oil (Organic)
Regular price $36.50 Sale
or
Absolute Essential Maternity Stretchmark Oil is a luxury botanical preparation. 
A nurturing and soothing blend to support supple and toned skin. Improves elasticity, minimises stretchmarks and helps restore skin condition, including after pregnancy. Ready to use on skin.
Pristine & organic at unbeatable value - this is a premium blend to affect deep skin health with optimum conditioning support. A formulation that includes cleansing and sebum-comparable jojoba, and nutrient rich, anti-oxidant avocado. The blend offers exceptional natural absorbance and full therapeutic synergy to protect the skin against dryness, stretch and overstretch of skin expansion. 
Absolute Essential Stretchmark Oil is perfect for use during or after pregnancy. It carries a potent crafting of essential oil properties for organic healing, rejuvenation and balance, supplying the skin with the ultimate super-foods to enhance natural elasticity and tone.
Benefits:
Stretchmark Reduction: The more supple and elastic the skin is, the less visible impact stretching will leave. The deep nourishment of this blend also supports the recovery process in visibly stretched skin.
Skin Food: Applying this oil to your body is like feeding your skin with the ultimate nutritional super food.
Skin Elasticity: The skin's awesome natural elasticity is supported with compatible organic compounds for deep nourishing conditioning.
Main Components:
Palmarosa (organic) Cymbopogon martini. Traditional use: to stimulate cell regeneration.
Calendula: infused (organic) Calendula officinalis. Traditional use: in nurturing the skin to maintain elasticity characteristic of youthful skin.
Evening Primrose Oil (organic) Oenothera biennis. Traditional use: to help retain skin elasticity, contains 9-12% GLA
Mandarin (organic) Citrus reticulata. Traditional use: to help prevent stretchmarks.
Ingredients:
Avocado Oil (organic), Calendula Infused Oil (organic), Apricot Kernel Oil (organic), Almond Oil, Jojoba Oil (organic), Lavender Sweet (organic), Evening Primrose Oil (organic), Olive Oil (organic), Wheatgerm Oil virgin, Palmarosa (organic), Mandarin (organic), Geranium Rose (organic).
Directions for Use:
Apply daily during pregnancy to breast, thighs and belly. Also use post-partum to assist the recovery process and on old stretchmarks to encourage new restorative process. Absolutely safe and silky smooth, Stretchmark Oil is a great natural choice for pregnancy massage.
Safety Considerations:
This blend is professionally designed for maternity use and is very safe if applied as directed. If ingested please consult a health specialist. Avoid contact with eyes: flush with water. Keep out of reach of children.
Please note: Therapeutic plant oils are used to support natural body process for optimum health and wellbeing. The information here is NOT meant as recommendation for cure of any medical condition or disease.