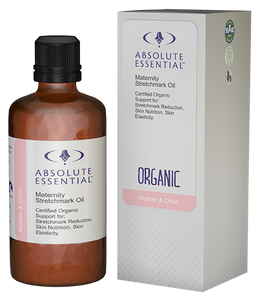 Absolute Essential Maternity: Stretchmark & Tone (Organic)
Regular price $38.00 Sale
or
#certified organic
Absolutely safe and gentle, Absolute Essential Maternity Stretchmark & Tone Oil supports recovering tummies and the reduction of accumulated fluids.
Designed for the pregnant and breast-feeding mum, this formulation includes cleansing and sebum-comparable jojoba, and nutrient rich, anti-oxidant avocado. 
Absolute Essential Maternity Stretchmark Tone Oil supports the reduction of accumulated fluids safely. After birth, with continued daily use, this blend will support the recovery process in tummy tissue. Beautifully smooth Maternity Body Tone Oil is also perfect for use in massage during pregnancy.
Pristine & organic at unbeatable value - this is a premium blend to affect deep skin health with optimum conditioning support. The blend offers exceptional natural absorbance and full therapeutic synergy to protect the skin against dryness.
Benefits:
Fluid Retention:

 Apply daily on areas like bottoms, legs and feel to stimulate circulation and maintain skin tone

.
Toned Body:

 Feeds the skin, ensuring suppleness is maintained.

Elasticity: The skin's awesome natural elasticity is supported with compatible organic compounds for deep nourishing conditioning. After birth, the elasticity of the tissues is nourished and skin can recover its original shape efficiently. Used regularly, may guard against cellulite.
Skin Nourishment:

 Nourishes dry skin, which is a common complaint caused by hormonal changes.
Directions for Use:
Apply daily during pregnancy to breast, thighs and belly. Also use post-partum to assist the recovery process and on old stretchmarks to encourage new restorative process. Absolutely safe and silky smooth, Stretchmark Oil is a great natural choice for pregnancy massage.
Main Components:
Evening Primrose Oil (organic)

 

Oenothera biennis. Traditional use: to help retain skin elasticity, contains 9-12% GLA
Lemon (organic). 

Traditional use: t

o promote cleansing in the lymphatic system and to help relieve muscular aches and pains. 

Grapefruit (organic) Traditional use: an effective cleansing agent for the skin and beneficial in aiding the natural flush of waste and accumulated lymphatic fluid.
Ingredients:
Avocado Oil (organic), Almond Oil, Jojoba Oil (organic), Evening Primrose Oil (organic), Lemon (organic), Cyprus (organic), Wheatgerm Oil (virgin), Grapefruit (organic), Sandalwood Austrailan.
Absolutely NO: Petrochemicals, Parabens, Pesticides, Industrial Giants or Animals Testing.
Absolutely YES: Natural, Plant Based, Organic, Vegan, Fair Trade and Cruelty Free.
Mother and Child Safe.
Safety Considerations:
This blend is professionally designed for maternity use and is very safe if applied as directed. If ingested please consult a health specialist. Avoid contact with eyes: flush with water. Keep out of reach of children.
Please note: Therapeutic plant oils are used to support natural body process for optimum health and wellbeing. The information here is NOT meant as recommendation for cure of any medical condition or disease.