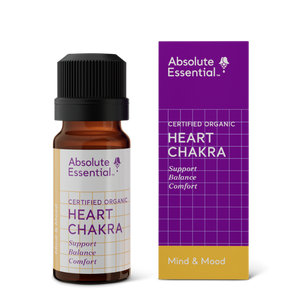 Absolute Essential Heart Chakra Essential Oils (Organic)
Regular price $32.50 Sale
or
A gentle and harmonious blend to support mental and emotional balance especially during times of stress, loss or grief.
Absolute Essential Heart Chakra essential oil blend may assist your heart chakra to stay open & balanced, allowing you to flow with love and compassion, forgive easily, and accept others and yourself.

The heart chakra creates balance in our lives and is the centre of our chakra system. When we move into the heart energy, we gain the capacity to feel love and compassion towards ourselves, and then genuinely towards others. Heart Chakra Oil is an exceptional pure natural formulation that supports us in our quest for peaceful and harmonious living, love and acceptance. It may be especially useful for people working through grief and loss.
Benefits:
Love: Open, healthy energy in the heart chakra creates a flow of loving energy that permeates our life experience.
Grief: Heart energy can be closed as a response to loss and distress and our process of healing and inner growth stinted. Heart Chakra Oil supports healthy chakra energy to allow acceptance and loving compassion to guide us through.
Living breath: One body area that is affected by the heart chakra is the respiratory system. Heart Chakra Oil may be especially useful to people with breathing difficulties.
Directions for use:
Massage into the chest and back area, as a daily treatment for 10 days.
Size: 10ml
Key Components:
Melissa True (organic) Melissa officinalis
Traditional use: useful for anxiety; calming and refreshing.
Bergamot (organic) Citrus auranthium var. bergamia
Traditional use: to promote composure & calm, to boost confidence.
Rose Maroc Rosa damascena
Traditional use: Symbolises love and beauty; Strengthening and relaxing.
Ingredients:
Jojoba Oil golden (organic), Cedarwood Atlas (organic), Sandalwood Australian, Petitgrain Bigarade (organic), Bergamot (organic), Amyris (wild), Rose Maroc, Melissa True (organic).
Safety considerations:
Safe if applied as directed. Not for internal use: if swallowed, drink milk, consult a health specialist. Avoid contact with eyes: flush with water. Keep out of reach of children..
Please note: Therapeutic plant oils are used to support natural body process for optimum health and wellbeing. The information here is NOT meant as recommendation for cure of any medical condition or disease.