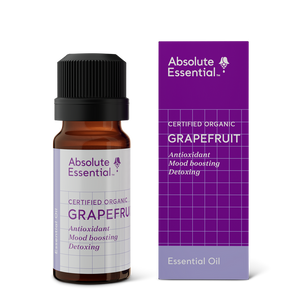 Absolute Essential Grapefruit Essential Oil (Organic)
Regular price $41.50 Sale
or
Certified organic, Italy
Feeling the need for an energy lift each morning?
Grapefruit has a lively, citrus scent that can be diffused to encourage an uplifting atmosphere for hightened perception and confidence.
Absolute Essential Grapefruit Essential Oil (Organic) has stimulating, cleansing and revitalising properties that support the natural process of detoxification, skin and muscle toning, and refreshed natural energy. Blends well with: Rose, Patchouli Supreme and Cypress
Suggestions for use:
Uplifting: Grapefruit scent is light and clean and helps to stimulate a lift in the senses. Add a few drops to your diffuser in the morning to embrace the day with fresh, bright energy.
Circulation and Cellulite: Grapefruit has stimulant and antioxidant properties that contribute to a healthy skin dynamic. Add 5 drops of Grapefruit oil to a wet face cloth and rub vigorously on the areas concerned. Repeat daily after a shower for 3-4 weeks.
Fluid: To help stimulate a healthy fluid dynamic in areas prone to swelling and retention, add 10 drops to a footbath with Epsom salts. Repeat for 3 nights.
Lymphatic System: A professional massage practitioner can assist lymphatic drainage with the cleansing, stimulating qualities of Grapefruit. Add up to 30 drops to Grapeseed oil and apply where the lymph nodes accumulate. Follow with rest and plenty of water to give the body a good flush.
Size:
10ml
Traditional & Historical Uses:
The grapefruit originated in the eighteenth century following the cross pollination of the orange and pomelo. The fresh, energising qualities of Grapefruit oil have since been used in natural medicine and aromatherapy to help strengthen the mind, balance emotions and fears, and to help alleviate exhaustion. With its mildly antiseptic and purifying properties grapefruit has been found to be an effective cleansing agent for the skin and beneficial in aiding the natural flush of waste and accumulated lymphatic fluid.
Please note: the traditional uses listed here are for reference only and under no circumstances should they be taken as recommendations for cures or treatments for diseases or medical conditions. Therapeutic oils are used to support natural body functions and work in harmony with our body's physiology.
Origin and Ingredients:
Grapefruit Essential Oil Citrus paradisii, rind, cold pressed, certified organic, Italy. 
Safety Considerations: 
Citrus oils are slightly photo-toxic so avoid sunlight after application to the skin. May cause irritation to sensitive skin. Should not be used by people with citrus allergies. May irritate the skin if used in the bath or in combination with hot water. Dilute in milk first if using in the bath. If accidentally ingested do not induce vomiting, follow with olive oil or milk and seek advice from a health specialist. Avoid eyes, flush with water. Keep out of reach of children.

Please note: Therapeutic plant oils are used to support natural body processes for optimum health and wellbeing. The information here is NOT meant as a recommendation to cure any medical condition or disease.