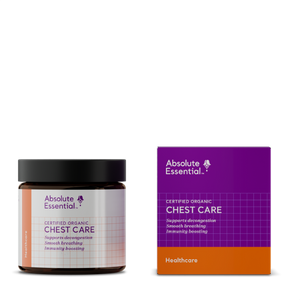 Absolute Essential Chest Care Cream (Organic)
Regular price $38.50 Sale
or
Certified organic
A safe, natural way to
 soothe baby's coughs and colds.
Absolute Essential Chest Care Cream is designed to help clear mucus congestion, and support healthy respiration and natural immunity.
With specific healing qualities to support natural recovery from colds and coughs, it includes antispasmodic, anti-inflammatory and antiseptic properties.
It also offers a safe and effective alternative to petroleum-based cough and congestion rubs, which are simply not sufficiently pure for a baby's delicate skin. For best results, use in combination with Baby & Child: Nose & Chest (organic).  
Size: 100ml
Uses and Benefits:
Congestion: Supports a healthy airflow in the nose and chest and helps support natural processes that clear mucus.
Coughs: If you are worried about persistent coughing or a bronchial condition, you can use this cream to assist normal respiratory activity, it is natural and pure, designed to work in harmony with your baby's body, and can be used safely alongside prescribed medicines when necessary.
Immune Protection: When children and their siblings begin to socialise in school, they become exposed to many new bugs especially in the winter months. Using this cream on the chest and spine offers added immune support.
Key Components:
Eucalyptus Blue Gum (organic) Eucalyptus globulus
Traditional use: a long-term respiratory tonic for asthma, bronchitis, catarrh & coughs; to offer relief from flu, colds & fevers. Recommended for the young & fragile.
Fir Balsam (organic) Abies balsamea
Traditional use: North American Indians used it for both religious & medicinal purposes; to boost glandular & immune systems; to help relieve asthma & bronchitis.
Spruce Black (organic) Picea mariana
Traditional use: a respiratory tonic for young & old; to manage asthma & ease bronchitis; to assist breathing during colds, flu & coughs.
Pure Unscented Body Cream (organic)
A perfect nourishing base for bespoke blends containing Avocado (organic), Jojoba Oil (organic) and Shea Butter (organic).
Directions for use:
Children 1 year and over: Apply to chest and back as required.
Babies: Dilute 50/50 with Sweet Almond oil organic.
Ingredients:
Calendula Tea*, Avocado Oil*, Apricot Oil*, Cocoa Butter*, Calendula Oil*, Olive Emulsifier, Shea Butter*, Arnica Oil*, Lavender Spike*, Eucalyptus Blue Gum*, Fir Balsam*, Rosemary Extract*, Geogard 221, Jojoba Oil*, Xanthan Gum, Spruce Black*, Aloe Vera*, Amigum (*Certified organic)
Absolutely NO: Petrochemicals, Parabens, Pesticides, Industrial Giants or Animals Testing.
Absolutely YES: Natural, Plant Based, Organic, Vegan, Fair Trade and Cruelty Free.
Mother and Child Safe.
Safety Considerations: This cream is safe if applied as directed. Safe to use in Pregnancy and with children. Safe to use with other medication when necessary. Avoid contact with eyes.

Please note: Therapeutic plant oils are used to support natural body process for optimum health and wellbeing. The information here is not intended for use as a cure of any medical condition or disease.