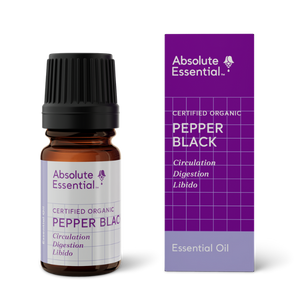 Absolute Essential Pepper Black Essential Oil (Organic)
Regular price $37.50 Sale
or
Certified organic, Madagascar
Wonderfully warming (in more ways than one) Pepper Black Oil is a massage essential.
This hot and spicy oil has energising and warm qualities that can be used to create a fortifying, revitalising atmosphere that may be especially helpful in times of sadness and worry. Pepper Black oil is stimulating and strengthening and has specific tonic qualities to assist natural resistance to winter ailments. It also supports healthy libido in both men and women. Blends well with: Ylang Ylang, Myrrh, Sandalwood and Jasmine.
Directions for use:
Circulation: To support healthy circulation, especially when exposed to winter ailments that may cause the body to be chilled (for example cold hands and feet, and chill blains) add 5 drops to 1ml of Olive oil. Massage into affected limbs twice a day.
Aphrodisiac: Enhance sexual appetite with 5 drops of Pepper Black oil to Sweet Almond oil and rub onto the lower back (only). A sensual, intimate atmosphere can be created in the bedroom by adding 5 drops of Pepper Black oil to a diffuser. May be sweetened by adding 5 drops of Ylang Ylang.
Muscle Tonic: To support relaxation and restoration when muscles are tight and tense, blend 3-5 drops in 1ml of carrier oil to apply direct, or on a hot compress. Repeat as required.
Back Stretch: Support massage therapy for back pain by blending 3-5 drops of Pepper Black oil in carrier oil, for massage or on a hot compress.
Traditional & Historical Information:
This ancient and revered spice dates back thousands of years. It was used in India over 4000 years ago to fight cholera, while Attila the Hun is reputed to have demanded 3000 pounds of pepper as part of the ransom for Rome. The Greeks employed pepper for fighting fever. It has been promoted for its powerful warming properties and has been used to ease aches, pains, muscle and joint stiffness.
Black Pepper oil is also believed to stimulate circulation and dilate blood vessels and has been said to have a strengthening and calming effect on the mind and nerves.
Please note: the traditional uses listed here are for reference only and under no circumstances should they be taken as recommendations for cures or treatments for diseases or medical conditions. Therapeutic oils are used to support natural body functions and work in harmony with our body's physiology.
Safety Considerations: Strong & spicy essential oil use little with care, avoid mucous membranes, recommended for adults only. Safe if used as directed. If ingested, drink milk. Avoid eyes, flush with water. Keep out of reach of children.
Please note: Therapeutic plant oils are used to support natural body process for optimum health and wellbeing. The information here is NOT meant as recommendation for cure of any medical condition or disease.