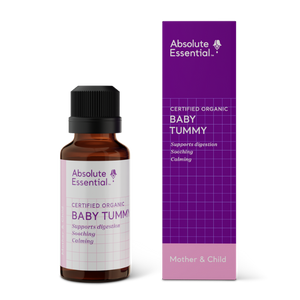 Absolute Essential Baby Tummy (Organic)
Regular price $30.50 Sale
or
Certified organic
A beautiful blend for sensitive wee tummies that is gentle and completely baby-safe.
A calming and relaxing blend to support healthy digestion. Useful for colic and restless nights. Ready to use on skin.
Select active essential oils deliver calming and soothing properties and support healthy digestive process. Extra Virgin Olive Oil (organic), perfectly gentle and smooth for baby skin with its own nurturing properties, is used to blend the formulation for simple application direct to sore tummies.
Benefits:
Aids Digestion: The gently active essential oils used in this blend support effective digestion, and may help counter the discomforts of gas or bowel irritation.
Colic: Young, otherwise healthy babies can pass through a stage of intense upset and often inconsolable crying. In some cases, soothing the stomach area can be a very helpful therapy with surprising effect.
Sleep: Babies that wont settle and children that have tummy ache at bedtime - which might seem like an excuse but fear can easily manifest as tightness in the tummy - may especially benefit from a gentle tummy rub to help ease them into relaxation and sleep.
Natural Healing: Soothing and comforting on contact to assist with minor pain and safe for use with prescribed medicines when necessary.
Key Components:

Olive Oil virgin (organic) Olea europea
Traditional use: to soothe. A suitable carrier for application to the tummy.
Coriander Seed (organic) Coriandrum sativum
Traditional use: to support healthy efficient digestion.
Peppermint (organic) Mentha piperita
Traditional use: to soothe for tummy trouble, eases pain.
Size: 25ml
Directions for use:
Gently massage 10 drops in a clockwise direction into tummy to help ease discomfort and to promote calm and relaxation. Repeat hourly if required.
Ingredients:
Olive Oil*, Lavender True*, Chamomile Roman*, Coriander Seed*, Mint Wild*, Peppermint* (*Certified organic)).
Absolutely NO: Petrochemicals, Parabens, Pesticides, Industrial Giants or Animals Testing.
Absolutely YES: Natural, Plant Based, Organic, Vegan, Fair Trade and Cruelty Free.
Mother and Child Safe.
Safety Considerations: These blends are professionally designed for use on infants and are very safe when applied as directed. Not for internal use: the ingredients are not toxic but will purge the stomach in significant quantities. Avoid contact with eyes: flush with water. Keep out of reach of children
Please note: Therapeutic plant oils are used to support natural body process for optimum health and wellbeing. The information here is NOT meant as recommendation for cure of any medical condition or disease.