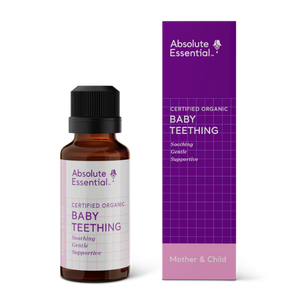 Absolute Essential Baby Teething (Organic)
Regular price $30.50 Sale
or
Certifed organic
A special blend of effective active oils with soothing and calming properties to ease infants through the discomfort of teething. 
Professionally formulated with the purest botanical extracts to provide totally safe, natural infant care.

Absolute Essential Baby Teething is a calming and gently analgesic blend with a soothing aroma. It has been crafted especially for teething babies to support lymphatic drainage and help relieve cranial pressure. Ready to use on skin.
With gentle active components that work directly on nerve receptors, we can apply this blend on a compress, or through soft massage to the cheek and neck. Baby Teething Blend can even be applied to the tummy for related upsets, and to help settle restlessness.

Benefits:
Pain Management: Apply by massage, or if preferred by warm compress, for direct absorption to painful nerve activity. Very gentle and relaxing.
Baby Teething: 

The exceptionally pure active oils used in this blend contain gently analgesic, sedative and calmative properties. Baby Teething Blend offers a wonderfully soothing aroma and can be applied directly to the cheek with gentle massage or via a warm compress for the added benefit that heat offers.
Size: 10ml
Directions for use:
Warm Compress: wet a facecloth in hot/warm water, wring out, add 10 drops and apply to the cheek. Repeat hourly, as required.
Massage: Gently apply to cheeks and/or tummy.
Main Components:
Lavender True (organic) Lavandula Angus. Maillette
Traditional use: to soothe the nervous system; an excellent natural response to pain.
Chamomile Roman (organic) Anthemis Nobilis
Traditional use: to comfort; an effective natural response to pain.
Olive Oil (organic) Olea Europaea
Traditional use: An excellent carrier for baby's skin
Ingredients:
Olive Oil (organic), Lavender True (organic), Jojoba Oil golden (organic), Chamomile Roman (organic).
Absolutely NO: Petrochemicals, Parabens, Pesticides, Industrial Giants or Animals Testing.
Absolutely YES: Natural, Plant Based, Organic, Vegan, Fair Trade and Cruelty Free.
Mother and Child Safe.
Safety Considerations: This blend is professionally designed for use on infants and is very safe when applied as directed. Not for internal use, drink milk if ingested and seek advice. Avoid contact with eyes: flush with water. Keep out of reach of children.
Please note: Therapeutic plant oils are used to support natural body process for optimum health and wellbeing. The information here is NOT meant as recommendation for cure of any medical condition or disease.