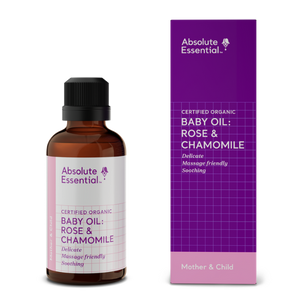 Absolute Essential Baby Oil: Rose & Chamomile
Regular price $32.50 Sale
or
A beautiful, multi purpose oil for sensitive skin that is gentle and completely and baby-safe.

Absolute Essential Rose & Chamomile Baby Oil offers the ultimate in gentle, nurturing baby care.
Crafted with the exceptionally tender qualities of two of our finest medicinal plants, this is an all-purpose body oil to nourish the most sensitive of skins. It offers the perfect complement to baby massage, with a fine-silk application and a mild natural fragrance with health-enhancing benefits.
Baby's skin is nourished and protected with organic 'nature identical' oils that support optimum healthy balance. And general use will help with common issues such as nappy rash (diaper rash) and cradle cap as safely and gently as possible.
Benefits:
Baby Massage: Imbued with gentle tonic and healing qualities, and a naturally relaxing aroma, this oil is perfect for baby massage: enhance loving bonding, contentment and immunity, and help to nurture nascent muscles.
Nappy Rash (Diaper Rash): The gentlest, most nourishing oils offer a beautiful skin care product to use on a clean, dry bottom between nappies. Creates a natural barrier to guard against skin irritation.
Cradle Cap: This blend is absolutely safe to apply on baby's scalp to help soften and loosen the build up of old cells that create the common condition known as cradle cap.
Soothing Baby: Protects & soothes baby, very natural and safe to support relaxation and calmness.

Size: 25ml

Directions for use:
Baby Massage and Cradle Cap: Apply a small amount of oil and rub gently into baby's skin. Nappy Rash: Apply gently to a clean, dry bottom between changes.
Key Components:
Chamomile Roman (organic) Anthemis nobilis
Traditional use: to balance & support; to comfort
Rose Maroc Rosa damascena
Traditional use: to soothe & comfort
Lavender Sweet (organic) Lavandula hybrida 'super'
Traditional use: to comfort & relax; a delicate scent for infants
Myrrh (wild) Commiphora myrrha
Traditional use: to protect, to heal.
Sweet Almond Oil (organic) Prunus amygdalus
Traditional use: A mild & light emollient that leaves the skin beautifully protected. A nourishing oil rich in unsaturated fats and essential fatty acids, easily absorbed into the skin.
Calendula Oil: Infused (organic) Calendula officinalis
Traditional use: an antiseptic & astringent; an effective moisturiser suitable for sensitive skin.
Wheatgerm Oil: virgin (organic) Triticum vulgare
Traditional use: Vit E, moisturiser suitable for sensitive skin.
Ingredients:

Jojoba Oil golden (organic), Lavender Sweet (organic) ,Chamomile Roman (organic), Calendula Infused Oil (organic), Rose Maroc, Wheatgerm Oil (organic), Myrrh (wild), Almond Oil (organic).
Absolutely NO: Petrochemicals, Parabens, Pesticides, Industrial Giants or Animals Testing.
Absolutely YES: Natural, Plant Based, Organic, Vegan, Fair Trade and Cruelty Free.
Mother and Child Safe.
Safety Considerations: This blend is professionally designed for use on infants and is very safe if applied as directed.Not for internal use: if ingested do not induce vomiting, drink milk, consult a health specialist. Avoid contact with eyes: flush with water. Keep out of reach of children
Please note: Therapeutic plant oils are used to support natural body process for optimum health and wellbeing. The information here is NOT meant as recommendation for cure of any medical condition or disease.