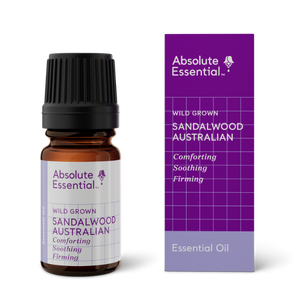 Absolute Essential Sandalwood, Australian Essential Oil
Regular price $92.50 Sale
or
Looking to add some 'spice' to your space?
Try the warm and alluring scent of Sandalwood Essential Oil to assist in creating a sensual atmosphere.

A warm and exotic oil from a tree native to India that encourages elevation of physical sensations as well as emotional balance. This Australian variety has a deep wood aroma with slightly floral tones and offers an exceptionally high quality alternative to the increasingly rare Indian Sandalwood.
It can be used to help create a relaxing and creative ambience for easy communication and also offers calming and soothing properties that are beneficial to the skin. Blends well with: Frankincense, Ylang Ylang and Rose.
Directions for use:
Calm: This oil is relaxing and uplifting. It is great for use in a diffuser to help encourage a calm atmosphere.
Skin: The soothing properties of Sandalwood make it a wonderful skin tonic. It is great for massage treatments to promote calm and uplift both mind and body. Add a few drops to your massage blend.
Sexual Desire: Exotic, warm and creative, Sandalwood creates an intimate atmosphere that is conducive to open, sensual expression.
Nerves: For a wonderful nerve tonic add 10 drops of Sandalwood into the bath once a week.
Size: 5ml
Traditional & Historical Information:
Sandalwood is one of the ancient, biblical essential oils. Its powerful and precious properties have been used for at least 4000 years. Sandalwood is native to Asia, in particular India, where temples were built with Sandalwood to keep termites at bay. The ancient Egyptians are known to have used Sandalwood in the embalming of bodies. Many cultures, including Indian, Hindu, Muslim, Chinese and Japanese use it for higher spiritual purpose. Its reported sedative properties have been found to promote feelings of deep peace and is ideal for meditation. Heightened sexual desire and relief of sexual problems have also been linked with Sandalwood. In the modern era, Sandalwood has been utilised by anger management groups to promote a calm atmosphere
Please note: the traditional uses listed here are for reference only and under no circumstances should they be taken as recommendations for cures or treatments for diseases or medical conditions. Therapeutic oils are used to support natural body functions and work in harmony with our body's physiology.
Origin:
Santalum spicatum, wood, distilled, traditionally grown, Australia.
Ingredients:
Cis-alpha-Santalol, cis-beta-Santalol, cis-Nuciferol, cis-alpha-trans-Bergamotol, cis-Lanceol.
Safety Considerations: This is a very safe essential oil. Use as directed. If ingested, drink milk and seek advice. Avoid contact with eyes: flush with water. Keep out of reach of children.
Please note: Therapeutic plant oils are used to support natural body process for optimum health and wellbeing. The information here is NOT meant as recommendation for cure of any medical condition or disease.