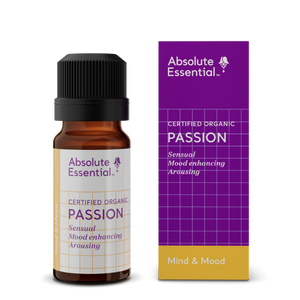 Absolute Essential Passion Essential Oil Blend (Organic)
Regular price $31.50 Sale
or
An alluring and sensual blend to enhance intimacy and elevate desire. Great for stimulating circulation and awakening the libido.
Unabashedly exotic and arousing, Absolute Passion is an invitation to energise your sexuality and enjoy full experience.
Aphrodisiac - a rich, earthy fragrance that can access primary sensory responses and awaken sensual desires.
Sex - an arousing scent for both men & women.
Passion - a physical awakening to release the intellect and invite sensual pleasure.
Main Components: 
Ylang Ylang (organic) Cananga odorata formagenuina -  an aphrodisiac; to inspire euphoria; to relax
Pepper Black (organic) Piper nigrum - warming and uplifting; to energize
Ginger (organic) Zingiber officinalis  - to invite free energy
Vetiver (organic) Vetiveria zizanoides -  to encourage deep relaxation.
Uses:
Diffusion: 10 drops into diffuser. Pulse points: A few drops to your pillow and sheets. Bath: 10 drops mixed into bath water. Massage: Blend 10 drops to 1 teaspoon of carrier oil (unscented).
Ingredients:
Cedarwood Atlas (organic), Bergamot (organic), Ylang Ylang (organic), Clary Sage (organic), Vetiver (organic), Amyris (wild), Pepper Black (organic), Clove Bud (organic), Ginger (organic).
Safety Considerations:
Safe if used as directed. Not for internal use: if ingested do not induce vomiting, drink milk, consult a health specialist. Avoid contact with eyes: flush with water. Keep out of reach of children.
Please note:
Therapeutic plant oils are used to support natural body process for optimum health and wellbeing. The information here is not meant as recommendation for cure of any medical condition or disease.