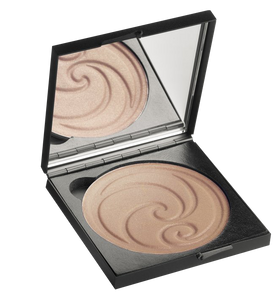 Living Nature Bronzer - Summer Bronze Pressed Powder
Regular price $55.00 $52.00 Sale
or
Living Nature's Summer Bronze Pressed Powder is a natural bronzer with minerals that delivers a radiant, sun-kissed complexion.
Fragrance-free and suitable for all skin types, including sensitive skin.
Highly commended in the Blusher Category of the UK's Natural Health Magazine's Natural Beauty Awards 2014.
Size: 13g
Directions for Use:
Apply to face and body with a kabuki brush. Can be worn alone, or over foundation or tinted moisturiser.
Ingredients
Talc (CI 77718), Mica (CI 77019), Squalane, Titanium dioxide (CI 77891), Zinc stearate, Zea mays (corn) starch, Iron oxides (CI 77491, CI 77492), Magnesium stearate, Hydrated silica, Iron oxide (CI 77499), Tocopherol acetate (vitamin E), Olea europea (olive) fruit oil **, Glycine soja (soybean) oil, Simmondsia chinensis (jojoba) seed oil**, Sorbic acid. **Certified organic.
Why Natural?
Our skin is our largest organ. Anything we apply to skin, including creams, lotions, serums, etc,  are absorbed through the skin into the bloodstream and ultimately may end up in other internal body tissues. Studies have shown that the toxic ingredients have been found in biopsy samples from breast tumors, ovarian cancer and more!
Cosmetics and personal-care products are poorly regulated, but many pharmacy and supermarket brands (including those with 'natural-looking' branding contain chemical and/or GMO ingredients such as fragrances, stabilisers, and preservatives. Parabens are in MOST pharmacy/ supermarket brands skincare products and cosmetics. A 2004 study found parabens in 18 out of 20 samples of human breast tissue.
Awareness is evolving as consumers change their lifestyle and consumption habits.  Now we can begin to understand why you must do away with your non-natural skin products - especially as there are such wonderul alternatives availble! 
The chemical components of many products also don't break down and instead accumulate in our ecosystems, harming our environment. Some of the damage is done when we wash our face or body and these chemicals are washed down our sinks, which are then streamed to our lakes, rivers, and the water systems. Micro-beads are micro-plastics contained in cosmetics, that wash down to pollute waterways and oceans. The harmful plastic then causes system pollution to eco-systems and the food chain. Toxic ingredients contained in non-natural products can (and do) cause cancer.
The manufacturing process of creating nasty chemical personal care products can be harmful to the environment, too. Petroleum based oils are byproducts of the oil industry. And most palm oil used in cosmetics is the result of razing rainforests to grow palm plants, and non-organic rapeseed or cottonseed oil is almost always the result of GMO farming.
#living nature #natural bronzer #mineralpowder #cruelty-free #natural skincare