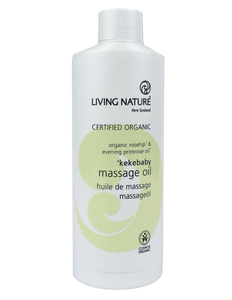 Living Nature Kekebaby Massage Oil
Regular price $55.00 Sale
or
Living Nature's new certified organic Kekebaby Massage Oil is a calming oil for babies designed to comfort and relax with certified organic rosehip and evening primrose.
Baby massage has been used for thousands of years to create that special bond between parents and babies and proven to have many positive benefits. For guidelines on how to massage your baby view our frequently asked questions below. For more details on baby massage or to find a certified massage instructor in your area, the International Association of Infant Massage has some wonderful resources.
Living Nature's new Kekebaby range is a certified organic skincare range for babies and toddlers. Made with love, care and the finest ingredients from mother nature, naturally nurture the little humans in your life with safe, gentle, organic skincare products made in New Zealand. 

It is only natural to want the best for the little humans in your life, and your instincts tell you to nourish and protect their delicate skin with products that are nutrient-rich, safe and chemical free.
Suitable for newborns and up
This product is great for adult massage too, especially pre & post pregnancy to help prevent stretch marks.
Size: 100ml
To use: warm a few drops between hands and gently massage baby, after bathing baby is a preferable time.
INGREDIENTS: Caprylic/Capric triglyceride, Calendula officinalis flower & Helianthus annuus (sunflower) seed oil*, Isoamyl laurate, Jojoba esters, Rosa canina (rosehip) fruit oil*, Oenothera biennis (evening primrose) oil*, Tocopherol (vitamin E), Parfum. *Certified organic. 100% natural origin of total. 20% organic of total.

No allergens in fragrance. Always refer to the product packaging for the most current list