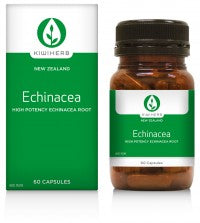 Kiwiherb Echinacea Capsules
Regular price $59.00 Sale
or
Need a high potency Echinacea to help fight off colds and  the flu?
Kiwiherb Echinacea Capsules with Premium Echinacea root provides a high potency immune formula for year round use.
This guaranteed high potency formulation is standardised for Alkylamides, the main active constituent in Echinacea.
Supports the health and function of the immune system
May reduce the severity and duration of colds
Assists in the symptomatic relief of upper respiratory tract infections
Convenient vegetarian capsule
Guaranteed high potency
High Potency Capsules
Ingredients:
Per capsule: Echinacea purpurea root 1500mg,Echinacea angustifolia root 200mg. Standardised to contain not less than 5.5mg total alkylamides per capsule. Vegetarian capsule.
Contains NO: Artificial flavours, sweeteners, preservatives or colours. 
Directions for use:
Adults: 2 - 4 capsules daily for colds & respiratory tract infections or 1 - 2 capsules daily for immune support
Children 6-12yrs: half the adult dose (or use Children's Echinature® liquid).
Always read the label. Use only as directed. If symptoms persist consult your healthcare professional. 
Cautions:
Not suitable for children under 2 years old without medical advice. Those allergic to Asteracea family plants (e.g. chamomile, artichokes and daisies) should take care when taking Echinacea due to possible allergic reaction.