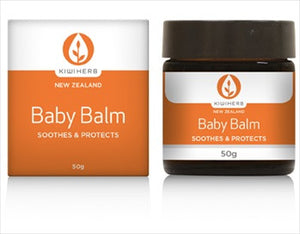 Kiwiherb Baby Balm
Regular price $22.00 Sale
or
Kiwiherb Baby Balm has been expertly formulated by Kiwiherb using natural herbs and oils to gently soothe and protect delicate skin.
Made from organic Calendula and Chamomile with NZ native herb Koromiko in a natural base of NZ olive oil, coconut oil and organic beeswax. Baby Balm's gentle moisturising action helps to hydrate, soothe and protect skin irritation, dryness or cracking.
Specially formulated for infants & children
100% natural
Ideal for use in the nappy area, scalp or any dry or irritated skin including eczema
Also ideal for use by mothers on their skin during pregnancy.
Ingredients:
Calendula flower (organic, 5.6%), Chamomile flower (organic, 3.3%), Koromiko herb (2.5%) in a therapeutic base of New Zealand olive oil, organic beeswax, coconut oil & lavender essential oil.
Contains NO: Parabens, petrochemicals, artificial colours, fragrances or preservatives.
Directions for use:
All ages: Apply to affected area 2-3 times daily.
Cautions:
For external use only. Those allergic to Asteraceae family plants (e.g. chamomile, artichokes, daisies) should patch test first. Avoid contact with clothing or bedding immediately after application to prevent transfer.