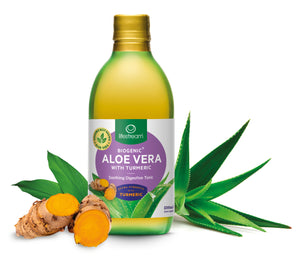 Lifestream Biogenic®Aloe Vera with Turmeric - Soothing Digestive Tonic
Regular price $24.50 Sale
or
#turmeric #bioflavonoids #antioxidant #curcumin #adaptogens #vegan #non-GMO #low cost shipping
Check out this amazing extra strength digestive tonic!
Lifestream Biogenic® Aloe Vera with Turmeric combines Aloe Vera sourced from 100% pure 'inner leaf' gel with HydroCurc®, a water dispersible form of turmeric, to provide an extra strength digestive tonic.

HydroCurc® provides curcumin, the active extract from turmeric
that contains 85% curcuminoids and uses unique LipiSperse® technology, scientifically researched for increased absorption and bioavailability.
Extra strength support for gastro-intestinal health
Calms bloating and digestive discomfort
Supports total body wellbeing
Our super low cost shipping is available on one bottle! (Non-rural only)
The Aloe Vera is gently processed using the patented NaturLock™ system to carefully lock in and protect the naturally soothing properties of the Aloe Vera plant.

What is HydroCurc®? 

Standard Curcumin (the key active from turmeric) has limited solubility and is poorly absorbed by the body. HydroCurc® not only delivers a high level of active curcuminoids at 85%, it also uses scientifically researched LipiSperse® technology that allows the curcumin to disperse easily in aqueous environments. This increases bioavailability and delivers curcumin to the body at a faster rate than standard curcumin extracts.

How does the LipiSperse® Technology work?

LipiSperse® uses dispersion technology to provide a unique delivery system where the curcumin particles have a special coating that repel one another rather than bonding together. This means the particles disperse freely and are smaller and easier for the body to absorb
Ingredients:
Aloe Vera (Aloe barbadensis) pure inner leaf: 994mg. HydroCurc® - water dispersible curcumin extract from turmeric (equiv. to 5.1mg curcuminoids): 6mg
This product is vegan and non-GMO. 
Also contains: citric acid, potassium sorbate and sodium benzoate.
Contains NO: added dairy, soy, gluten, wheat, flavours, colours, or sweeteners.
Size: 500ml Oral Liquid Tonic
Directions for use:
Adults: 20ml (2 dessertspoons), 1-3 times daily.
Children 6-12 yrs: 10ml (1 dessertspoon), 1-2 times daily.
Can be mixed with water or juice. Best taken on an empty stomach.
Cautions:
If symptoms persist and for children under 6 years, consult your healthcare professional. Not recommended during pregnancy, breastfeeding or for children under 2 years.
Keep out of reach of children. Do not use if cap seal is missing or broken.
As this is a natural product, the juice may vary in taste from batch to batch. This does not affect the potency or quality of the juice.
NaturLock™ is a registered trademark of Terry Laboratories, USA. HydroCurc® and LipiSperse® are registered trademarks of Pharmako Biotechnologies Pty Ltd.