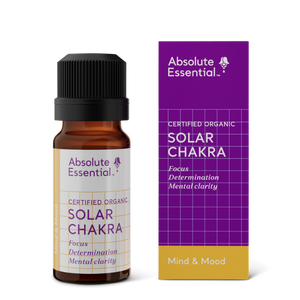 Absolute Essential Solar Chakra Essential Oils (Organic)
Regular price $32.50 Sale
or
The solar plexus, also called the manipura chakra, is where we find our personal power 

It governs self-esteem, warrior energy, self-determination and the power of transformation. Make sure your Manipura chakra is balanced and aligned to tap into your personal power.
Absolute Essential Solar Chakra essential oil blend is created from pure, natural active ingredients that support the associated centre to balance energies involved with personal freedom, mental awareness and self-possession. It may be especially useful during recovery from shock or stress.
The solar chakra (about 2 inches above the belly button) is the power centre where we develop our autonomy, sense of self and intellect. 
Benefits:
Confidence & Optimism: Using Solar Chakra Oil will support the sun energies that allow positivity and strength of conviction to manifest.
Humour: The capacity for wit and laughter is something that develops with healthy solar chakra energy.
Power: The solar chakra governs our inner resources for determination and clear thinking. It creates a strong force for personal fulfilment and self-protection.
Directions for use:
Massage into the lower ribs, chest and corresponding back area, as a daily treatment for 10 days.
Size: 10ml
Key Components:
Rosemary Cineol (organic) Rosmarinus officinalis cineol
Traditional use: Restorative and balancing; useful in recovery from fatigue.
Lemon (organic) Citrus limonum
Traditional use: Positive and uplifting; refreshing and cleansing.
Clove Bud (organic) Eugenia caryophyllata
Traditional use: stimulating and refreshing; useful for memory and confidence.
Sage (organic) Salvia officinalis,
Traditional use: Calming and fortifying; useful for stress and fatigue.
Ingredients:
Jojoba Oil golden (organic), Vetiver (organic), Rosemary Cineol (organic), Juniper Berry (organic), Petitgrain Bigarade (organic), Sage (organic), Lemon (organic), Clove Bud (organic).
Safety considerations:
Safe if applied as directed. Not for internal use: if swallowed, drink milk, consult a health specialist. Avoid contact with eyes: flush with water. Keep out of reach of children..
Please note: Therapeutic plant oils are used to support natural body process for optimum health and wellbeing. The information here is NOT meant as recommendation for cure of any medical condition or disease.