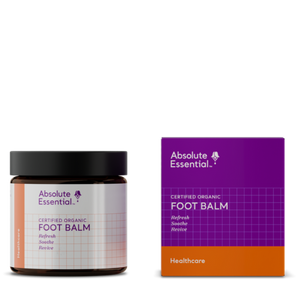 Absolute Essential Foot Balm (Organic)
Regular price $37.50 Sale
or
A luxe, rich-yet-light, refreshing, deodorising, nourishing and lightly stimulating skin & foot balm
A refreshing and nourishing naturally anti-fungal blend to support the recovery of tired feet and cracked heels
Being full of naturally moisturising & rich, pure ingredients, it's also great for other dry skin areas such as elbows & hands! Absolute Essential Foot Balm assists your skin's natural recovery processes for dry, cracked skin. 
It's excellent to apply to feet and calves after long periods of standing on hard surfaces, as the ingredients (and massage action of rubbing it in) support good circulation.
Uplifting and Refreshing - Give your overused feet a break with a gentle daily massage using this balm! Better yet, swap with your partner.
Counteract foot smelliness - The balm is refreshing & deodorising with natural anti-bacterial and anti-fungal properties
Moisture for dry feet - Richly moisturises your feet without being sticky or non-breathable. 
Cracked Heels - This Foot Care Balm is designed to help heal persistent cracks in dry heels & will keep them healthy
Counteract Athlete's Foot/ Tinea - May help to alleviate with its anti-fungal properties for athlete's foot.
Main Components:
Peppermint (organic) 

Mentha piperita

 - refreshing & deodorizing
Cinnamon Leaf (organic) 

Cinnamonum verum

 -

 

anti-fungal, protects against

 

athlete's

 

foot (tinea)
Tea Tree (organic) 

Melaleuca alternifolia

 - anti-fungal, anti-bacterial.
Absolute Massage Cream (organic) - containing a natural plant based cream, including Cocoa butter (organic), Shea Butter (organic) & Beeswax (organic).
Ingredients:
Absolute Massage Cream (organic), Shea Butter (organic), Beeswax (organic), Lemon (organic), Cypress (organic), Tea Tree (organic), Cinnamon Leaf (organic), Wild Mind (organic), Patchouli (organic), Peppermint (organic).
Directions for Use:
Massage gently into dry areas on feet & other skin areas as often as required.
Safety Considerations
This blend is professionally safe if applied as directed. Not for internal use: if ingested do not induce vomiting, drink milk, consult a health specialist. Avoid contact with eyes: flush with water. Keep out of reach of children.
Please note:
Therapeutic plant oils are used to support natural body process for optimum health and wellbeing. The information here is NOT meant as recommendation for cure of any medical condition or disease.