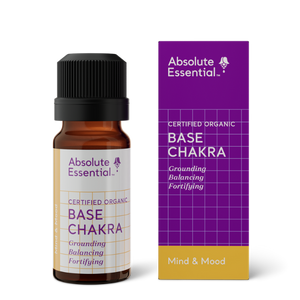 Absolute Essential Base Chakra Oil (Organic)
Regular price $32.50 Sale
or
#certified organic
Absolute Essential Organic Base Chakra Oil is a strengthening and balancing blend to support a sense of groundedness, clarity and calm. Ready to use on skin.
A potent aroma for supporting the vital flow of energy in the body, Base Chakra Oil can offer a link to greater healing potential & manifestation.
Absolute Essential Base Chakra therapeutic blend to assist with the Root Chakra - the first of our energy centers that forms the basis and starting point for our development.
The base chakra (located at the base of the spine) relates to the core of life's physical and practical aspects affecting our fundamental sense of security, trust and basic survival instincts. The therapeutic blend of Base Chakra is focused on grounding, protecting and strengthening our ego energy for a balanced, functional self definition.
Benefits:
Strength - Grounding, protecting and fortifying for the personality and soul presence in the body.

Body Balance - Base Chakra Oil supports the flow of vital energy through the body. A healthy functioning base chakra grounds us in the present moment and helps us to function efficiently.

Efficient Healing - The base chakra is also connected to our sense of smell, which links to the brain's basic response mechanisms. The potent aroma of Base Chakra Oil offers us a link to greater healing potential.
Key Components:
Pepper Black (organic) Piper nigrum: Traditional use: stimulating and tonic for the blood.
Vetiver (organic) Vetiveria zizanoides: Traditional use: fortifying and rousing to the senses.
Frankincense (wild) Boswellia carterii: Traditional use: calming and cleansing.
Patchouli (organic) Pogostemon patchoulii: Traditional use: restorative and revitalizing.
Ingredients:
Jojoba Oil golden (organic), Cedarwood Atlas (organic), Patchouli Supreme (organic), Vetiver (organic), Pepper Black (organic), Sandalwood Australian, Frankincense (wild), Myrrh (wild).
Directions:
Massage: Into the body, especially the legs, thighs and buttocks, as a daily treatment for 10 days.
Bath: Add 5-10 drops directly to bath water for deep centering and relaxation.
Safety Considerations: Safe if applied as directed. Not for internal use: if swallowed, drink milk, consult a health specialist. Avoid contact with eyes: flush with water. Keep out of reach of children.
Please note: Therapeutic plant oils are used to support natural body process for optimum health and wellbeing. The information here is NOT meant as recommendation for cure of any medical condition or disease.